FAMILY OWNED & OPERATED
Serving you since 1983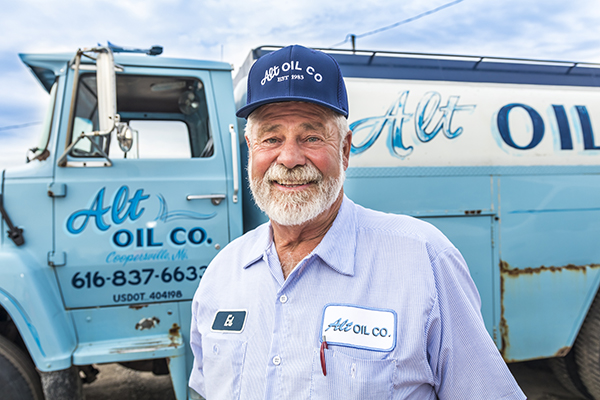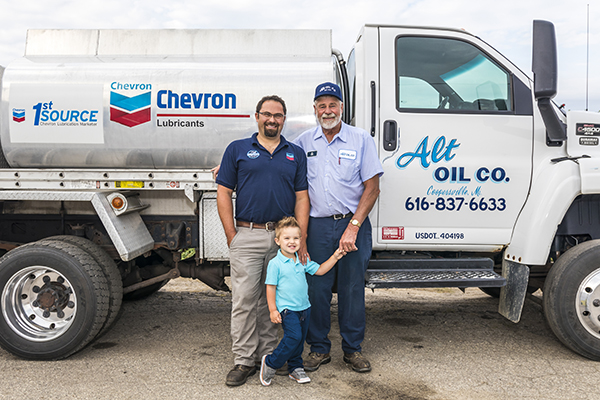 The origin of Alt Oil Company is a perfect example of "when one door closes, another door opens." Ed Alt began his company in 1983 after the current company for which he was a distributor was forced to close their doors. With God's blessings and the backing of an awesome community and family, he started Alt Oil Company, a local gas, diesel and fuel oil distribution operation, as well as a 24-hour fuel furnace repair service. Ed worked twelve hour days, six days a week, peddling product and fixing furnaces and fuel oil hot water heaters. In the evenings, he and his wife worked on bookwork and invoicing. Everything was done without the use of a computer. Jean Gavin, his wife's sister, became their first employee in 1984. She was hired as the bookkeeper and worked from the Alt home. In 1990, Ed hired Al Bartz to assist in the deliveries and general maintenance of the trucks. The two of them made quite a team; customer satisfaction was and still is their most important goal.
In 1993, Alt Oil Company opened their current office at 1374 West Randall, Coopersville. Customers were now able to stop in and pay their bills at the local office. Ed, Al and Jean provided great stability for this company and as a result, the business continued to grow.
In 2006, Ed's son, Tim, began his career with the company as a fuel distributor. Tim not only brought the Alt work ethic, but also the ability and desire to build the company in new directions. In June of 2007, Alt Oil Company acquired Sparta Oil from Roger Alberts. Not only did the delivery territory grow but also the staff increased as Fern Alberts remained as the secretary at the Sparta office.
In January 2010, Jean retired and Ed's brother-in-law, Jim Fochtman, took over the bookkeeping position for the company. This was not the only change for the company in 2010. The entire fuel bulk plant needed to be redesigned to handle the growth of the company. This was a huge undertaking and with the help of local distributors allowing us use of their plants, Alt Oil was able to continue their great service during this huge renovation.
In March 2011, Tim had a vision for the company to branch out into lubricant sales. He signed on with Chevron under Northern Energy from Gaylord as an associate marketer of Chevron Lubricants. His vision was a success, however, it soon became clear that the company would need more employees to maintain their level of customer service.
Between 2014 and 2016, Alt Oil Company increased their workforce by more than 300 percent! Our latest acquisition of Byron Oil Company in 2017 added additional personnel and expanded our portfolio to include bulk transport services as well. Changes and growth are still occurring at a rapid pace, but one constant remains unchanged; daily, we are blessed with great staff! They are totally dedicated to giving their best to our company. ALTimate customer service along with a phenomenal staff are definitely our blessings for success!